Facebook reminded me that is was just two years ago when "Hover Fly", my cafe art image of a little eponymous creature on a yellow flower, was an honored participant in an exhibit at the Rectory in Norcross, Georgia.
Here some views from that cherished event.
After the exhibition "Hover Fly" was on display at Objet d'Art Gallery and Studio.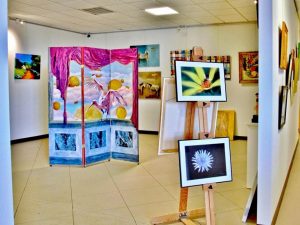 Most recently it was on exhibit at City Hall, Peachtree Corners, GA.
Just today I picked up my work and "Hover Fly" is back home now. Now I have to find a new permanent place of residence for my honored images.
© 2016 Ludwig Keck